Your Liquid Diet Expectations
July 19, 2021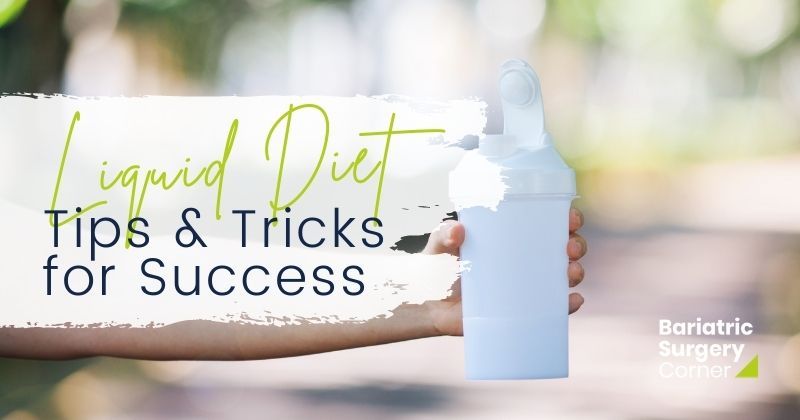 You are thinking about weight loss surgery. You're tired of dieting, losing weight and then hitting a plateau. You're frustrated that you've been going to the gym and working so hard with minimal results. Your weight is going up and down then up even higher. The only predictable part of the whole process is frustration.
At this point, you may have decided that bariatric surgery is an option for you. You found a doctor and had your consultation and you're informed that you'll have to embark on a liquid diet before surgery. What? Yes, a liquid diet.
Depending on your body mass index (BMI) and comorbidities, your liquid diet may last 1-2 weeks. It is part of the preoperative process with the goal of reducing the risk of your surgery and the severity of your comorbid conditions (high blood pressure, diabetes, sleep apnea, etc.) By losing some abdominal fat and shrinking your liver, you not only improve your general health, but also allow your bariatric surgeon a better visualization of the operative field during the procedure.
The pre op diet is a challenge, to be sure. The first two days are especially difficult and are usually met with resistance from a body that wants what it knows and craves. It likely gets easier on the third day and thereafter. But you're not doing this because it's easy. Remember what you want to accomplish with this surgery and think of the liquid diet as an opportunity to demonstrate your commitment to a healthier lifestyle. This is the beginning of a long challenge, with amazing potential.
There are going to be other liquid diets before and after your weight loss surgery procedure. For example, the day before surgery you'll be required to consume only clear liquids. Then, following surgery, you will be on a clear liquid diet and will transition to a full liquid diet shortly thereafter. Depending on your procedure and the degree to which you can tolerate foods, the full liquid diet will be followed by the "soft food" diet. These dietary restrictions are the path to regular foods when your stomach has healed sufficiently after surgery.
The liquid diet is difficult, to be sure, but once you are past it, everything gets just a bit easier. Whether it is the pre-surgical or a postop liquid diet, following your surgeon's directions is the most important way to ensure a safe and effective procedure and a swift recovery with as few complications as possible. Every surgeon will have different instructions both pre-and post-surgery, so refer to your patient manual or talk to your bariatric practice for more information. If you're looking for a bariatric surgeon, please use our convenient bariatric surgery finder.