Eating at a Restaurant After Weight Loss Surgery
September 20, 2021
Even before the pandemic, one of the questions we were most often asked is "How will my life change after my surgery and what does that mean for dining out?" The short answer is that the changes you need to make when eating at a restaurant are very similar to the changes you'll have to make when eating at home. In the end, the diet after weight loss surgery should be one of moderation and balance.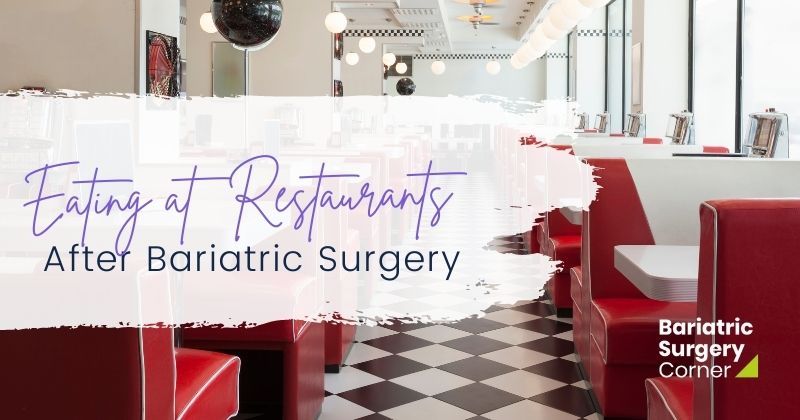 It can be very difficult to control your appetite when at a restaurant. This is especially true when nights out have been as rare as four-leaf clovers during the pandemic. There are many temptations working against you. First and foremost, in a social atmosphere it is very hard to say "no" when everybody else is enjoying their meal. Secondly, restaurant portions tend to be quite large, often providing much more volume than you need. Thirdly, eating out often means not knowing how your food is prepared, including added fats, sugars and overall calories that are commonly hidden in the typical restaurant meal.
But before you cancel that reservation, below are a few practical hints and tips that will make your dining experience more comfortable and pleasurable:
Avoid empty calories in drinks. Sodas and alcohol tend to be high in calories and sugar, which can hinder your weight loss progress. Also, fizzy drinks can stretch your pouch, making it a very uncomfortable evening. Drinking water 45 minutes before your meal and avoiding drinking during the meal will help.
Be cautious with sauces and dressings. While a salad may seem like a great choice — and it is, the dressing on it may be sabotaging your diet. Sauces and dressings can be very high in fat and calories, stymieing weight loss. A good option is to ask for your dressing on the side, or better yet, request oil and vinegar on the side.
Ask your server about hidden calories. While a lean piece of beef or chicken may seem like a great choice, often it is prepared in and then brushed with butter for flavor and appearance. While the taste may be delicious, those hidden calories can add up. You may request that the kitchen skip the extra butter.
Split a meal. Sometimes avoiding large portions is impossible, and splitting a dish with someone you're with, will allow you to enjoy the taste of the food without overindulging. If splitting is not an option, ask for a to-go container, and pack half away before you start. You'll not only leave satisfied and comfortable, but you'll have lunch the next day too!
Dieting after weight loss surgery does not have to be disruptive. In fact, we believe that a varied diet, in moderation, is the key to staying on track. You can always find more advice and a helping hand at a bariatric support group, or you may contact your surgeon's office if you have questions about your post-surgical diet.
Just remember, the diet prescribed to you by the surgeon's office is specifically tailored to balance weight loss with your nutritional needs. Make sure to follow your guidelines closely.