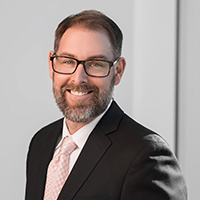 DR. Justin J. Clark, MD FACS SURGEON
Dr. Justin Clark was born and raised in San Diego, California. He grew up as an avid tennis player and enjoyed golf, hiking, fishing, and camping. In college he played tennis and rowed crew at Oxford University in England. He has traveled extensively throughout North America, South America, Europe, Africa and Asia. Dr. Clark now lives in Anchorage and has two beautiful daughters.

Dr. Clark chose to become a surgeon because he finds the operating room to be a sanctuary of sorts. When in the operating room time seems to stop and all the chaos of the outside world fades away. He feels focused, fully immersed, and experiences extreme gratification.

"It is a wonderful feeling to be able to help someone who has chosen to take control of their weight and is motivated to change their life. Every single time I have a patient return after surgery and thank me for giving them their life back, I get to renew my love of bariatric surgery."

Dr. Clark served with distinction in the United States Air Force. Commissioned as an officer in 2002, he then entered medical training before going Active Duty in 2012. He served as a Major at Joint Base Elmendorf Richardson Hospital until 2016, where he was director of bariatric surgery and assistant director of trauma surgery. He participated in missions all over the Pacific theater, including traveling with President Obama to Malaysia as surgical support staff.

Dr. Clark stayed in San Diego for his undergraduate education at the University of California at San Diego where he obtained a B.A. degree in history. He spent his junior year abroad studying at New College, Oxford University in England. After graduating, he spent a year traveling and enjoying time in Europe and Africa. He entered medical school in Chicago at Northwestern University in 2002, and graduated with a medical degree in 2006. He then performed a general surgery residency at the University of Hawaii in Honolulu for five years. He was very fortunate to secure one of the nation's top fellowship positions at Duke University and spent the next year in intensive training in bariatric and minimally invasive surgery. Upon finishing his fellowship, he entered active duty with the USAF in July 2012. He became Board Certified by the American Board of Surgery in 2014, and was inducted into the American College of Surgeons in 2015. He is also a participating member of the American Society of Metabolic and Bariatric Surgery.

Dr. Clark currently serves as Director of Metabolic and Bariatric Surgery at Providence Alaska Medical Center.
Contact Info
Phone: (907) 644-8446
Address:
3909 Arctic Boulevard Suite 101
Anchorage, Alaska 99503
Procedures Performed
Bariatric Revisions
Cholecystectomy (Gallbladder)
Duodenal Switch
Gastric Banding (Lap-Band®)
Gastric Bypass
Gastric Sleeve
GERD (Acid Reflux) Surgery
Hernia Repair
Memberships
American Board of Surgery
American College of Surgeons
American Society for Metabolic and Bariatric Surgery
Center of Excellence
, Fellow, American College of Surgeons
Insurance Accepted
*All major insurance providers
Recognitions
Board Certified by the American Board of Surgery in 2014
Inducted into the American College of Surgeons in 2015
FACS designation
Education
University of California/Oxford University
Northwestern University
University of Hawaii
Duke University
---
Is this your listing?