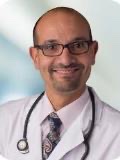 Niazy Selim, MD, PhD, FACS
Dr. Niazy Selim, MD, PhD, FACS, a board certified general surgeon with an accomplished resume of national and international experience, currently serves as the Chief of Surgery at Christus Lake Area Hospital. Recognized as a global leader in robotic and advanced laparoscopic surgery, Dr. Selim has helped introduce cutting edge surgical procedures to Lake Charles, eliminating the need for patients to travel to distant medical centers in Houston or New Orleans. Dr. Selim chose to make Lake Charles his permanent home in 2015 by opening his private practice specializing in gastrointestinal, minimally invasive, robotic & bariatric surgery. "There is a real need and demand in southwest Louisiana for high quality, accessible care without having to travel to New Orleans or out of state", Dr. Selim said. "I'm here to provide that quality and compassion, without sacrificing cost and
convenience, for our community." Dr. Selim received his degree from the University of Missouri and completed his Fellowship at Emory University in Atlanta, Georgia. He went on to serve in the Department of Surgery at the University of Arkansas and later as the Medical Director of the Bariatric Surgery Program and the Chairman of the Robotic Surgery Committee at the University of Kansas. Dr. Selim has held numerous teaching positions and surgical appointments at highly regarded institutions nationally and internationally. He has conducted extensive research in his field and has contributed to multiple publications while giving numerous presentations focusing on the diseases of gastrointestinal tract, bariatric, endoscopic and laparoscopic surgeries. Dr. Selim continues to help educate and proctor a large number of surgeons domestically and abroad, including fellows from the Tulane University Surgery Program. At Selim Surgery center we have a great approach on how we treat patients said Dr. Selim. "I try to treat my patients like they are my family and I am proud to work with a partners like Dr. Colpitts and Jaylin Miller who believe in the same approach"
At his Surgery Center, Dr. Selim is applying his expertise in performing surgical procedures such as general surgery, Gastric Sleeve, Gastric Bypass, revision procedures and is an expert in the use of the Lap-Band® and the Orbera® Intragastric Balloon. We offer medical weight loss under the supervision of Jaylin Miller, DNP, FNP-C. He offers a state - of - the - art facility and consultative services for those in need of plastic surgery. Prospective patients can expect excellent care from a dedicated team of highly skilled and experienced professionals devoted to helping you attain sustainable weight loss and achieving a better quality of life. Selim Surgery Center is located at 215 W. Prien Lake Road, in Lake Charles. For more information, contact his office at (337) 502-8706.
Contact Info
Phone: (337) 502-8706
Address:
Selim Surgery Center 215 W Prien Lake Rd.
Lake Charles, Louisiana 70601
Procedures Performed
Cholecystectomy (Gallbladder)
Duodenal Switch
Gastric Banding (Lap-Band® and Realize® Band)
Gastric Bypass
Gastric Sleeve
GERD (Acid Reflux) Surgery
Hernia Repair
Orbera Balloon
Revisional Surgery
, Abdominoplasty, breast surgery, facelift, botox, fillers, brachioplasty, breast augmentation, breast reduction, body contouring, bodytite, liposuction, tummy tuck, breast lift
Memberships
American Board of Surgery
American College of Surgeons
American Society for Metabolic and Bariatric Surgery
Society of American Gastrointestinal Endoscopic Surgeons
Insurance Accepted
*All major insurance providers
*Call office for details
Aetna
Blue Cross/Blue Shield
Cigna
United Healthcare
Recognitions
July 2013: The University Of Kansas Medical Center Gastroenterology and Gastrointestinal Surgery was ranked #19 in the nation by US News.
January 2013: Chosen in "Top Doctors, Kansas City Finest Doctors as voted by their peers" 435 magazine.
2013: Nominated "Chair Elect of the School of Medicine Faculty Council", by the Faculty Council nomination committee.
Invited to multiple TV and radio interviews in regard to Bariatric, Robotic and advanced minimally invasive surgery.
April 1996: Research work was chosen among the best residents and fellows researchers to be presented in "Young Investigators' Conference on Digestive Diseases", Coeur d'Alene, Idaho.
1994-1996: Joint Supervision Fellowship (Egypt and U.S.A), Funded by the Egyptian government.
Education
Missouri Medical Center
Emory University
Mansoura University
---
Is this your listing?