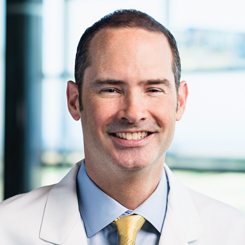 Nick Nicholson, MD, FACS
Dr. Nick Nicholson is recognized as a national leader in bariatric surgery.

Dr. Nicholson opened the Nicholson Clinic for Weight Loss Surgery in North Texas more than 20 years ago. Today, the Nicholson Clinic is the country's premier destination for weight loss. Dr. Nicholson has helped more than 25,000 patients, coming from all 50 states and 11 countries. But his impact goes beyond his patients and their successful outcomes. His contributions to the field of bariatrics make him one of the most prominent figures in the field.

Dr. Nicholson trains doctors from around the world and consults on new products and techniques to improve patient experience and outcomes. As a true expert in the industry, Dr. Nicholson holds two patents on medical devices, is a published author of books and numerous articles and has conducted multiple TV appearances on the subject of weight loss surgery. Recognized by patients, peers and medical experts, he is honored to have played a role in helping so many people overcome obesity and reclaim their health.

Dr. Nicholson leads a team of world-class surgeons and specializes in multiple advanced, minimally invasive bariatric and abdominal surgery procedures including: sleeve gastrectomy, gastric bypass, LAP-BAND®, gastric balloon and revisional bariatric surgery. In addition to weight loss, his patients have experienced a reversal of type 2 diabetes, high blood pressure, heart disease, arthritis and other weight-related illnesses. Dr. Nicholson and his team also perform gallbladder removal, hiatal hernia repair to cure acid reflux, abdominal wall hernia repair and abdominal wall reconstruction.

Dr. Nicholson is board certified in General Surgery by the American Board of Surgery. Dr. Nicholson is credentialed at some of the top facilities in DFW and has the designations to meet bariatric coverage requirements that many insurance companies need. The Nicholson Clinic has the largest bariatric support staff in DFW with both English and Spanish speaking providers and staff to ensure patients feel comfortable, supported and informed about their bariatric care.
Contact Info
Phone: (972) 494-3100
Address:
8080 Independence Parkway Ste. 115
Plano, Texas 75025
Procedures Performed
Cholecystectomy (Gallbladder)
Gastric Ballooon
Gastric Banding (Lap-Band® and Realize® Band)
Gastric Bypass
Gastric Sleeve
GERD (Acid Reflux) Surgery
Hernia Repair
Revisional Surgery
Memberships
American Board of Surgery
American College of Surgeons
American Medical Association
American Society for Metabolic and Bariatric Surgery
Center of Excellence
Society of American Gastrointestinal and Endoscopic Surgeons
Recognitions
Trained and certified as a da Vinci Robot surgeon.
One of D Magazine's Best Doctors in Dallas, 2007-2016, 2018, 2020-2021.
Voted to Living Well Magazine's Top Docs list, named as a winner in both the Top Bariatric Surgeon category and the Top One of D Magazine's Best Doctors in Collin County, 2011-2016, 2018-2022.
Voted to Living Well Magazine's Top Docs list, named as a winner in both the Top Bariatric Surgeon category and the Top General Surgeon category, 2019-2021.
Best Bariatric Surgeon by Living Magazine Readers', 2014-2016, 2018.
Dr. Nicholson and his team of surgeons were voted Living Magazine's Best of Three-Eighty North for 2016, 2017 and Best of Frisco/Plano, 2020 and 2021.
Education
UT Austin
University of Texas Medical Branch at Galveston
University of Texas Southwestern Medical Center at Parkland Memorial Hospital
---
Is this your listing?