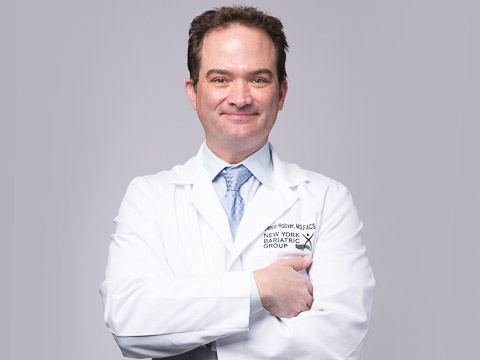 Spencer A. Holover, MD FACS FASMBS
Dr. Spencer Holover received his General Surgery training at St. Barnabas Medical Center in Livingston, NJ. He then completed a Minimally Invasive Bariatric Fellowship with pioneering Bariatric surgeon, Dr. Phil Schauer at the University of Pittsburgh Medical Center. While at the University of Pittsburgh, Dr. Holover held the academic appointment of Clinical Professor of Surgery, performed cutting edge research, gave presentations at major national meetings, and helped train future and actively practicing surgeons. In 2003-2004, while at the University of Pittsburgh, Dr. Holover performed the Sleeve Gastrectomy. This makes him one of the earliest surgeons in the world to do this operation.

In addition, he published one of the earliest articles ever written on Sleeve Gastrectomy. The article appeared in a leading laparoscopic-bariatric journal, Surgical Endoscopy, titled "Laparoscopic Sleeve gastrectomy as an initial weight-loss procedure for high-risk patients with morbid obesity", in April of 2006.

Dr. Holover has performed over 1200 Laparoscopic Gastric Bypasses, over 1800 Lap-Bands, and 1500 Sleeve Gastrectomy procedures. He is one of the first and most experienced surgeons on Long Island to perform Single Incision Lap-Band Surgery (SILS). In addition, he has performed over 14,000 surgical endoscopies making him one of the most experienced surgical endoscopists and minimally invasive bariatric revision surgeons (ROSE, Stomaphyx, Esophyx, etc.), in the country.

Dr. Holover has also received the "Patient Choice Award" as one of "New York State's Favorite Physicians" multiple times as well as having been voted one of the "Most Compassionate Doctors" in the country multiple times. In addition, he was voted one of The Consumer Council of America's list of "Top Surgeons in the Country". Dr. Holover is also a New York State Police Investigators Association Police Surgeon and has been featured as an expert guest on CBS News, KJOY, Telecare, and WHPC.
Contact Info
Phone: (800) 633-8446
Address:
125 Mineola Ave.
Roslyn Heights, New York 11577
Procedures Performed
Bariatric Revisions
Cholecystectomy (Gallbladder)
Colon Resection
Foregut Surgery
Gastric Banding (Lap-Band®)
Gastric Bypass
Gastric Plication
Gastric Sleeve
GERD (Acid Reflux) Surgery
Hernia Repair
Memberships
American Board of Surgery
American College of Surgeons
American Society for Metabolic and Bariatric Surgery
Center of Excellence
Society of American Gastrointestinal and Endoscopic Surgeons
, New York State Police Investigators Association, New York Medical Society
Insurance Accepted
*All major insurance providers
*Call office for details
Education
St. Georges University School of Medicine
St. Barnabas Medical Center
University of Pittsburgh Medical Center
---
Is this your listing?