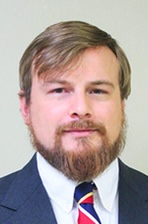 Winn H. Mathews, MD
Dr. Winn Mathews became interested in medicine and surgery during trips to Haiti as a child. This was a remote area in the mountains of the southern peninsula, where he served with his family as missionaries. He had aptitude for science, mathematics and biology.

After graduating from high school with honors, he went to Auburn on an academic scholarship and graduated Magna Cum Laude. He was accepted to medical school at the University of South Alabama. As he prayed, he made a decision to pursue a career in surgery. He spent five years in a general surgery residency program. A program where his father was one of many surgical attendings. He found himself in the operating room where as a high school student he had worked as an orderly mopping floors and moving patients.

Spiritually, Dr. Winn Mathews is assured of his calling as a General Surgeon in an underserved area by joining the Surgeons Group, P.C. It has become apparent to all that he is gifted and has a special aptitude in the fast developing field of robotics. He has demonstrated a willingness to reach out to this entire demographic that Brookwood Baptist Medical has served for many years. His father is thankful for a like-minded partner who shares God's calling to further his ministry through the works of Winn's hands.
Contact Info
Phone: (205) 780-7150
Fax: (205) 780-7150
Address:
The Surgeons Group 917 Tuscaloosa Ave SW
Birmingham, Alabama 35211
Procedures Performed
Bariatric Revisions
Cholecystectomy (Gallbladder)
Colon Resection
Foregut Surgery
Gastric Banding (Lap-Band® and Realize® Band)
Gastric Bypass
Gastric Plication
Gastric Sleeve
GERD (Acid Reflux) Surgery
Hernia Repair
Memberships
American Board of Surgery
American College of Surgeons
Center of Excellence
Insurance Accepted
*All major insurance providers
*Call office for details
Aetna
Blue Cross/Blue Shield
Humana
Medicare
United Healthcare
---
Is this your listing?